As I discuss in Content Strategy 101, defining your ideal customer can make a huge difference in your content marketing efforts. This gives you a specific target audience to speak to.
Although at face value it seems like an easy thing to do, many businesses find that figuring out exactly who your ideal customer is can be quite challenging.
I would actually venture to say that most businesses don't bother to try to figure out who their ideal client is. And if they do, it isn't before they launch, but rather after they are already up and running.
Even then, getting to the core of who you are attracting can be very useful. It gives you the ability to adjust your content to cater towards that audience. Or maybe it helps you realize that you've been attracting the wrong people all along
.
Sure, you can use a survey to see who your audience is, but then you are relying on responses. That means that people have to take the time to respond to your questions. There's a much easier, almost effortless way, to collect key demographic information from your audience.
And all it takes is one click of a "Like"…
Using Facebook to Identify Your Audience
There's plenty that has been said about Facebook and privacy issues. But the bottom line is that it can be a great tool for businesses and marketers trying to find exactly who they're talking to.
While most people are busy passing around cat pictures, you can tap into the insights that Facebook provides to paint a clearer picture of the individuals who are interested in your products and services.
To tap into the information that Facebook can provide, you just need to follow a simple four step process:
Create a Facebook Page
Get People to Like Your Page
Analyze Your Insights
Refine and Optimize
Create a Facebook Page
I won't dive into too much detail here because there are plenty of resources you can find that will take you step by step through the page setup process. In fact, the actual process takes you through the necessary steps.
So you may just want to head on over to http://www.facebook.com/pages/create.php and just jump into it. Or, to learn more, you can go to http://www.facebook.com/about/pages.
There are a few things you want to focus on when you create your page:
Your Timeline Cover – This is probably the first thing that most people will notice when they come to your page, so you want to make sure that it sends a clear message of what your page is all about.
Your "About" Section - If people are extra curious, they will check out this section to learn more about you. This gives you an opportunity to go into more detail about the product/services/etc that you provide.
A Landing Page - You can create a landing tab for new visitors to your page. Facebook took away the ability to auto-load this tab for first time visitors, but it can still be very useful if you are driving traffic to your page from external sources or ads. While this is normally a great way to collect subscribers, for the purposes of identifying our audience your call to action should be to "like" your page.
If you are unsure of how to set up a landing page for your Facebook Timeline, Pat Flynn of Smart Passive Income has created a great video to walk you through the process of creating a Facebook Landing page on Timeline: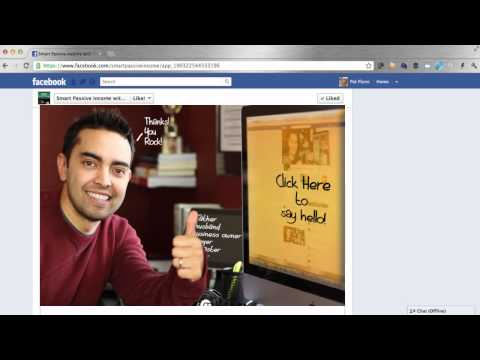 Now I want to mention something important. When you are on the final stages of creating your page, Facebook will ask you to promote your page by letting your friends know about it. Don't do this!
Inviting personal friends to your business page will throw off the Insights and make your stats far less accurate – it defeats the purpose of this whole process.
Getting People to Like Your Page
Once your page is set up and ready to go, you need to start attracting people to it in order to analyze who "likes" it. Attracting the right audience her is obviously important because you want your stats to be accurate (hence…don't invite your friends).
There are a few places from which you can draw people back to your Facebook page. I will focus on two: your website and Facebook itself.
Facebook
For the purposes of this strategy, the fastest way to collect enough likes to start paining a pretty clear picture of who your audience is, is to create Facebook ads.
There are certainly free ways of getting likes through interaction on Facebook, but this takes a time investment. Running ads is pretty cheap, and you only pay when someone clicks on your ad (assuming that's the way you set it up).
Setting up an ad on Facebook is pretty easy. You just go to http://www.facebook.com/advertising and click "Create an Ad."
You do need to have some level of understand of who might be attracted to your website in order to target your ad. You don't want it showing to too many people because you click-through-rates will suffer. And Facebook charges you less per click the better your click-through-rates are.
But you probably already have some knowledge of who you are targeting. If nothing else, you know what their interest is – because that is what your website is all about.
If I were to run an ad for Content Strategy Hub, for example, I might target individuals who already like Content Marketing Institute on Facebook.
Your Website
Your website is another great place to draw "Likes" for your Facebook page.
As you can see in the sidebar here, I have a Facebook widget through which people can "Like" the Content Strategy Hub page. Some people just prefer that over giving out their email address.
Then again, some do not. I also have that same widget on the "confirmation" page when someone subscribes for updates from this blog. And this, in my opinion, is actually a more valuable source of "Likes" for your brand new page because it is coming from people that have subscribed to you.
So if this is the only source of traffic you rely on for your Facebook page, it will definitely be the most accurate in my opinion. But it will also take you a longer time to collect enough data for it to be considered significant.
Analyze Your Insights
Once you collect enough "Likes" on your page you can dive into your Insights to see what's going on. I would say that you should aim for a minimum of 100 "Likes" to get a level of statistical significance.
You can access Insights through the Admin Panel that is available at the top of your Facebook Page for you. Click the "See All" link to get your stats overview:
Once inside the Insights tab, click on the "Likes" link to see just who you have been attracting. You get stats like age, sex, geographical location and even where your likes came from. Here is a snapshot of one of the breakdowns of the Content Strategy Hub page:
This is just a portion of the available stats. As you can see, this gives me a visual representation of age distribution, as well as gender distribution. Genders are evenly split at 49.2% male and 49.2% female – which leads me to question the other 1.6%
.
I am now beginning to paint a clearer picture of who my audience is.
Refine and Optimize
As you gain and more and more knowledge of your audience, you can start refining and optimizing your entire marketing process.
For example, some marketers may discover they have a large gender bias in their audience. You should then create content that caters to that audience – or change the essence of your business. CSH is clearly not gender-specific, as proven by the stats above.
However, if I were to run an ad campaign in the future I would target the 25-54 age group. This covers over 77% of the total audience on my Facebook page.
It's also interesting to see the gender discrepancy in the 18-24 age group, which is offset by the 45-54 group. Perhaps this is something worth investigating further, perhaps not. We'll see
.
Refining and optimizing your ads will lead to higher CTRs, which in turn will lead to cheaper ads. And refining your content to suit your target audience will result in a loyal following.
Your Two Cents:
Do you have a Facebook page for your business? Do you check the insights? Did they help you discover anything about your audience that surprised you? Do you know who your target audience is?
Don't forget to sign up for updates form Content Strategy Hub below!